The benefits of aluminum trailers stretch far beyond the appeal of just a sleek looking trailer. For starters, aluminum trailers will not rust, making your trailer look newer, longer. This is a big factor in Bear Track's being low maintenance compared to other trailer options. You don't have to worry about paint touch-up, or rust. Aluminum is durable with no paint to scratch and the finish will not fade or peel in sunlight. The primary maintenance item on a Bear Track trailer is wheel bearings. When properly cared for you have little to worry about.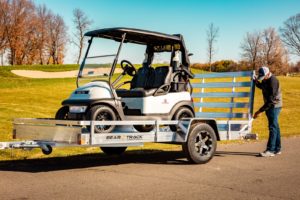 Often overlooked are the benefits of having a lightweight trailer. They are easy to handle; as most Bear Track Aluminum trailers can be moved with ease by hand. In tow, lightweight aluminum trailers pull easier and require less gas resulting in better fuel economy. 
Ultimately a trailer purchase is an investment and, at the end of the day, when you're ready to upgrade your trailer to a newer model, a Bear Track aluminum trailer will have a better resale. All the factors above contribute to your trailer looking better longer and creating long term value for you.
To learn more about the features that separate Bear Track Trailers from the competition visit our Craftsmanship page.